7Red.com Sends Winners to Vegas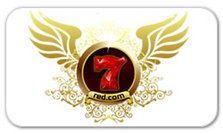 By:
Russell Potvin
, October 9, 2013
In the pursuit of creating more and more interesting promotions for its players, 7Red.com has introduced something that will produce a reward that is, well, somewhat unique for its players in the month of October, though hardly unfamiliar.
What they seek to do, in the way of thanking folks for their patronage, is give one of them the opportunity to make the trip, all expenses paid, to Las Vegas, and give them enough money to enjoy themselves and then some to boot!
In effect, they are taking someone (maybe you) from the online casino environment right to the physical casino environment, but nobody ever said a change of pace wasn't good every once in a while.
There are certain requirements to be eligible for the prize. As expected, it is going to require participation on the part of the player in the casino itself, and that means a successful deposit that must be made sometime during the month of October. As far as that is concerned, existing players can be involved, as this is not just a promotion designed to attract new signups.
The prize in question is precisely this: a trip for two to Las Vegas, with accommodations available for four nights, along with a total of €10,000 in spending money, which will literally be deposited into the winning customer's account, available for withdrawal before the trip to Las Vegas.
As mentioned, players have until Halloween to make the deposits that will make them eligible. This is a not a tournament or any other kind of competition; it is not a contest to see who can deposit the most or play the most. It is literally a raffle.
And in accordance with that, on November 15 a drawing is going to be held that will determine the winner. Since 7Red.com understands that some people have schedules that are rather unforgiving, they have a rather large window of time during which the winning customer can take the trip. In fact, it can be taken at any point between December 1 of this year and March 1 of next year.
However, if the winner of the raffle cannot make the trip at all, a re-draw will be held to determine another winner. So if you can't get lucky one way, maybe you can get lucky another way!
You'll become a "star" too; the winner will make himself or herself available publicity photos and materials in connection with the contest. That's all before you are turned loose with that €10,000 stake to go play wherever you want in the city that never sleeps.
7Red.com is an exciting place to be for many other reasons as well. Slots are something in which they take a lot of pride; in fact, this year they won the distinction of Slots Operator of the Year at the International Gaming Awards in London.
There any number of creative promotions players can take advantage of, including a 100% match bonus up to €/£/$100, along with a Blackjack Weekend Bonus, Happy Hour Bonus, Gold VIP bonus and much, much more. All anyone has to do to be eligible for these bonuses and the free Las Vegas trip is make a deposit at 7Red.com during the month of October.
Isn't that simple?