All Slots Casino's $1100 Welcome Bonus Available Now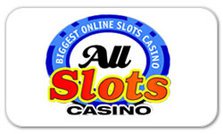 By:
Russell Potvin
, June 17, 2014
There's never been a better time to head over to All Slots Casino than there is right now. The online casino is holding a drive for new players to come and try their hands at the hundreds of game that are available there with "$1100 in non-stop bonuses.' In addition to the promotions that are held all year round, there's an additional incentive to become an All Slots member today with the chance to claim one of the largest welcome package available around the web.
All new users who sign up are eligible for a four step deposit matching bonus system worth an amazing $1100 right now. The first deposit will be matched at 100% up to $200, the second will see a 25% return up to $100, the third has 50% matching up to $100 and, in order to maximize the deal for a huge head start on your bankroll, the fourth and final deposit will have 25% matching up to $100. This first $500 is just the initial welcome package as the other $600 is offered across the rest of the first week that each of the new players are part of the growing All Slots family.
Along with having hundreds of amazing games provided by leading Canadian online casino software developer, Microgaming, there are additional bonuses that string through the entire year. Each and every month sees a new promotion which gives players the chance to increase their bankrolls through new deposit matching offers as well as monthly game bets that reward correct guesses with cold, hard cash. This ensures that those who are frequent players are rewarded for their efforts, even if they haven't hit a jackpot yet. Free spins on your games of choice, game credits to play without paying, and bonus cash back on new deposits are just a few of the perks that keeping up with this hot casino provides.
On top of all this, as if it could get any better, is the All Slots Casino loyalty program. Win or lose, every bet you place with any of their games builds up reward points which can be redeemed for credit to your account when enough has been collected. The base, or Bronze, level of this is simple, every $10 spent in a game will earn the player one point and, after building up 1000 points, $10 can be claimed. The rewards escalate quickly as the player moves up through the Silver, Gold, Platinum, and Diamond tiers which increase the points earned for wagering as well as giving better rewards once the required number have been reached to claim a prize.