CasinoLuck Celebrates Summer With Themed Slots and Extra Giveaways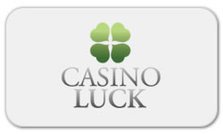 By:
Russell Potvin
, July 10, 2014
It's time to celebrate the summer weather and CasinoLuck knows how to beat the heat in just the right way, with amazing bonuses and giveaways for their players. Starting on July 8th, 2014 this amazing online casino is offering the chance to win even more above and beyond what their selection of sunny and sandy beach themed video slot machines already give.
NetEntertainment's gaming offerings to this themed bonus time include Beach, Wild Water, and Tiki Wonders. All of these games display the care and effort that goes into their games to make sure that players have a fun experience while spinning their way towards jackpots that can ramp up as high as 40,000 coins alongside lots of free spins. Microgaming, the leading Canadian casino game developer, features an ocean themed slot machine with the five reel slot Crazy Chameleon as well as the beach themed Surf Safari and Big Break slots.
Playing these games during the five days of bonuses from CasinoLuck is a great way to earn the extras being given away during these six days of summer celebration. July 8th saw players who deposited at least $20 getting 20 free spins in Beach. July 9th gave players who deposited $200 or more a bonus of $50 added to their account on July 10th. July 10th includes a bonus code, "SURF," in order to activate a $30 reload bonus on any deposits made with a limit of $100. July 11th is time for the giveaway as anyone who deposits $50 or more on this date will be entered to win a Samsung Galaxy Note 3 with the only further rule being that the deposit turnover must happen at least five times on the same day. The final two days of the promotion, July 12th and 13th, have triple Frequent Player Points being offered across the five themed games, Beach, Tiki Wonders, Wild Water, Crazy Chameleons, and Big Break, so that those who make the most of their gambling time on the weekend can reap the rewards that the FPP program offers.
Casino Luck offers a wide range of games totalling more than 600 at the time of writing, for players of all skill, luck, and experience levels and the rolling sidebar on their site show just how many people are winning prizes as this promotion rolls forward. Partner the July extra offers with the welcome bonus for new players, which gives 100% deposit matching up to $150 as well as 100 free spins to those just coming to the site, and the summer celebration gets even easier over at CasinoLuck.