Golden Riviera's Sure Win €10000 Slot Tournament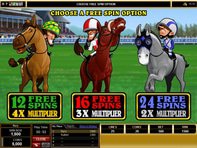 By:
Russell Potvin
, April 1, 2014
The shot has sounded, the gates are open, and the players are off to the races taking part in a gambling tournament hosted by the Grand Riviera Casino powered by Microgaming's Sure Win video slot machine.
This fast paced and exciting racetrack themed game is the centerpiece around which hundreds of users have gathered to place their bets on their own luck and skill.
Every week between the start of the event, March 31st, 2014, and the end, April 27, 2014, half of the player pool will be eliminated from the tournament until only the best of the best, the top 100, will remain on their feet, ready for another spin around the track. More, in this case, means that each of the winners will see their share of the €10000 (USD$13774) pool of winnings to be had.
Just like a real-world racetrack, anything can happen and fortunes can sway dramatically in mere moments as the five reels get rolling and the 25 pay lines show what each tap of the Spin button will bring. With three spin bonus structures in play, a user lagging behind could overtake the leader in a single step, either by sheer luck or by calculated risk such as the game's Gamble Feature which gives a chance to double or triple their earnings. Competitors will be crossing their fingers to gain an advantage with 12 free spins with a four times multiplier, 16 free spins with a three times multiplier, or 24 free spins with two times multiplier.
Those who signed up as new players to the site were able to take advantage of Golden Riviera Casino's three deposit matching offers, with a maximum value of €/£/$500, as well. The first time a player makes a secure deposit of real money, via digital wallets, credit cards, or other payment accepted method, their cash will be met at 100% value up to a limit of €/£/$150. The second will be met at 25% up to €/£/$200, and the third will see a 50% return with a matching cap of €/£/$150.
For those simply spectating and playing along, possibly practising for the next time an event like this fabulous race for big cash, there is a free play option offered by the site as well. For the first hour of visiting the site, users will be credited with €/£/$2500 worth of credits, free of charge, to test out some of the 650 games offered and find a favourite without diving straight into the excitement of laying down real money.