Casino LaVida Celebrates Record-Breaking Progressive Win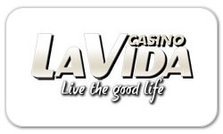 By:
Russell Potvin
, May 9, 2013
Winning a huge progressive jackpot is an online slots player's dream, and for most players, a dream is all it will ever be. However, one lucky player at Casino LaVida hit a big-time win that just goes to show that the big scores do happen. What's more is that this player broke the progressive jackpot record at Casino LaVida in the process. This is an absolutely amazing win because of the combination of the broken record and the background of the player who won.
The player is being identified only as G.L., and he won more than €3 million with his win. The jackpot came from the Mega Moolah slot, one of the most popular progressive slots in the industry. This game paid out a big jackpot worth about €2.6 million earlier this year. However, what's even crazier about this story is that G.L. had been a member at Casino LaVida for less than a day, and he had made his very first deposit just hours before he triggered the big jackpot. This is one of the biggest examples of good luck that has ever been seen in the online casino world, and Casino LaVida is very happy to have been a part of it.
The Mega Moolah slot is a 25-payline video slot machine that uses five reels. It has very small coin sizes that only go up to $0.05 each, and players can bet up to 125 coins on a single spin. The combination of tiny bet sizes and absolutely enormous jackpots have helped to make Mega Moolah extremely popular. This game has four different progressive jackpots available, and G.L. won the largest which is named the Mega. The other three are called the Mini, Minor and Major. Because the Mega jackpot starts out at €1 million every single time it's won, you are guaranteed to be a millionaire if you win.