Microgaming's The Bandit and the Baron Slot Review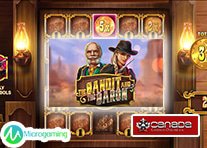 By:
Russell Potvin
, January 11, 2022
There are many online gaming sites out there for players to choose from, and even more games for players to sift through. As a result, it can be incredibly overwhelming for people new to the world of online gaming to get started. Fortunately, there are some things that we can do to help. Notably, we can take to the time to conduct our The Bandit and The Baron review. We will look at the slot and everything it has to offer to players. When you are done reading, you can determine for yourself whether it is something you are interested in playing at Jackpot City Casino.
Where Does This Game Come From?
If you do not have a lot of experience playing games online, you might be surprised to hear that the sites that you are playing on are not the makers of the games on their sites, at least in most cases. Most of the time the games come from an independent software provider that is hired by the site to develop games for their library. In the case of Jackpot City Casino, they have hired several software providers to help them build out their game library. We found in our The Bandit and The Baron review that it was developed by Microgaming.
Microgaming is one of the most well known software providers in the industry. Now, you might be worried about that because sometimes the most well known companies are not the best options. That being said, Microgaming is a great software provider that has developed a stellar reputation over the years. As a result, it should be exciting to play a game like this one that is from Microgaming.
An Overview and Review of The Bandit and The Baron
When you start playing this title, you will immediately notice something different about it. There are plenty of western themed slots out there, but not many of them have a female protagonist. If this sounds strange, we encourage you to look up some of the many female outlaws from history. There are plenty of them, and as a result, the characters fit very well. That being said, there is not a lot of backstory for the characters in this game, but there is plenty of potential to win.
Bet Sizes and Volatility
When looking at a game like this one, it is important to consider how much you will be winning, and the likeliness that you will be a winner. Players are able to make bets ranging from $0.20 to $10. While the bet sizes are nothing special, this is a highly volatile slot, and as a result, you can lose a lot of money if you keep making bets. So, it is important that you keep track of your bets while you are playing so that things do not get out of hand. The return to player percentage is listed at 96.09%.
Major Features
In our The Bandit and The Baron review, we found that whenever a player hits the 1x1 sized wild symbol, they expand to become a full reel Baron Wild. This is the most valuable premium that you can hit.
The Bandit Bonus is also an interesting feature in that it allows you to go on streaks. It is triggered by hits on reels 1, 3, and 5. You start with 13 unlocked positions and 12 locked positions. You then spin three times, and you can land on a cash, key, or upgrade symbol. Cash symbols increase the value of your bet. Key symbols unlock a random space. Upgrade symbols multiply the cash symbols. The Bandit Bonus continues until all positions are filled, the spins run to zero, or you reach the withdrawal cap.
Take Advantage of Bonuses to Get the Best Experience
The best way to enjoy your experience on a top Canadian online casino site like Jackpot City Casino is to claim bonuses. Fortunately, we can help you find the best options. Notably, you can claim a welcome bonus from Jackpot City. That welcome bonus provides players with a 100% match deposit bonus of up to $1600. There are other bonuses like this one that are also available on the site. You just need to go to the promotions section of the site to get started.
Our The Bandit and The Baron review found that it is a good option for players to check out. It is highly volatile, but it has large payouts to counteract the volatility. Additionally, there are plenty of interesting features which should keep you entertained whether you are winning or losing.