Go Crazy With Mike Tyson at 7Red Casino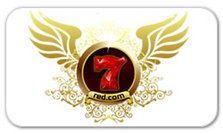 By:
Russell Potvin
, September 4, 2014
Big names bring a lot of attention, and that's definitely the case with Mike Tyson. He has a new advertising campaign for television that's going to be happening in Norway for 7Red Casino, and it's sure to bring a ton of attention. Known as one of the greatest boxers of all time, Tyson has been known recently for his one-man show which has gotten amazing ratings, and bringing that popularity to this hilarious series of television commercials for 7Red Casino is sure to bring a smile to a lot of peoples faces.
The Starburst slot is also featured in some of these commercials, and that's interesting considering how big of a star Mike Tyson is. Starburst is a high-action video slot that gives players a high payout rate with a cool space-age theme. The modern design of this game has led to it being exceptionally popular among players, and its expanding wild feature combined with its arcade feel have made it one of 7Red Casino's most popular titles overall. The combination of the popularity of this game and the popularity of Mike Tyson means that these commercials will likely be big hits.
One of the things that really sets 7Red Casino apart recently is that they're making a big push to get their brand recognized by the general public in certain countries. This includes sponsoring the new season of the "Big Brother" television show that started around the beginning of this month, and it also includes the television advertising campaign featuring Mike Tyson. This approach is something that you don't always hear a lot about, and that's a credit to 7Red because they're really making waves with the ways that they have chosen to advertise their brand.
7Red Casino is known for their excellent usage of the Net Entertainment online casino software package. Because they're looking at really attacking the market with advertising campaigns, they really have to know that they are working with some of the best software and games that you can find anywhere in the industry. Thanks to NetEnt, that's exactly what they have, and it makes it easy for them to show off with hot titles like Starburst which is featured in the television commercials with Mike Tyson.