Scary Rich 3 Released by Rival Gaming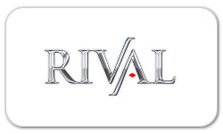 By:
Russell Potvin
, October 4, 2013
New games are a critical part of an online casino's success, and this is especially true when it comes to new slots. Rival Gaming has had a lot of success in this industry, and they know that their new releases give players a chance to try new things and see what they like. With all of this in mind, Rival Gaming has released a sequel to a popular series of slots that they have produced called Scary Rich. They are based on a haunted mansion and horror movie theme, and this will be the third installment in the series.
Scary Rich 3 is based on a group of three ghost hunters who are investigating Baron Bluhdsteyn's haunted mansion. You'll see all kinds of scary symbols in this game including monsters like werewolves and traditional scary story themes like skeletons and bones. You'll also have some tools of the ghost hunting trade available like lanterns, a video camera and a set of keys to the mansion. Overall, the concept is captured perfectly in this slots game with a cool set of symbols that help to create the creepy vibe that the Scary Rich series is known for.
Overall, this is a title that focuses on a combination of a great concept and solid gameplay. It uses 50 paylines across five reels, so you'll have tons of way to line up the symbols and hit wins on every single spin. The main bonus feature in this game is the free spins thunderstorm which includes special expanding werewolf wild symbols. You get this feature by picking up three or more of the Baron Bluhdsteyn symbols on the reels. With a fresh combination of special features and traditional payouts, this is a title that will have you ready to scream in delight.
Rival Gaming is a popular online casino software company who focuses on producing high-quality games. While sometimes this might make it seem like they don't turn out as many games as some other casino software developers, the end result is actually just that their games are all of a higher quality than what you will find at many casinos powered by software from other developers. With Scary Rich 3, Rival Gaming continues the tradition of offering players tons of fun with awesome themes and generous features. Check it out at your favorite Rival Gaming casino, and you could strike it scary rich.