Skrill's Ukash Remains Alive With Paysafecard, for Now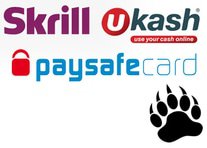 By:
Russell Potvin
, July 31, 2015
In online gambling news today, we have heard the Paysafecard, a subsidiary of Skrill has taken over Ukash keeping it alive for the time being.
In this new online gambling payment method deal, Ukash vouchers will remain valid payment methods until the 31st of October, 2015. The vouchers are however being replaced with Paysafecard alternatives as early as next month. The additional time frame that is being allocated to the Ukash vouchers is to help the transition and to protect current users.
In an effort to ensure a smooth transition a comprehensive campaign has been designed and will be launched to inform Ukash retailers, consumers, and voucher holders of the changes. It is to be a three pronged campaign that will include messages on the Ukash website, direct marketing, and a retailer engagement programme to ensure success.
In an interview, Udo Müller, CEO of Paysafecard, said that this deal is advantageous to their customers as it expands the secure online payment options that they have. He also went on to say that the best of what Ukash and Paysafecard have to offer will now be integrated to create the best prepaid technology ever.
It is a known fact that online gambling payment options have been increasing and in the near future we expect to see the number of options multiply again. With Skrill securing this new deal through their subsidiary Paysafecard, it will allow them to gain greater visibility in the e-wallet market.
The deal itself dates back to November, 2014 when Skrill originally announced that they had reached an agreement to purchase Ukash. This deal was actually completed in April 2015. This acquisition for Skrill is a considerable extension of the company's reach and allows them to move forward into the high-growth prepayment market. In doing so it makes Skrill the largest online cash replacement payment method.
Skrill has left the Canadian online gambling market, but they are still one of the most popular options in regulated markets such as the UK, France, and Italy. The takeover by Paysafecard removes the Ukash brand from the online payment market and we will see this transition happening over the next couple of months.