Tropezia Palace Reduces Wagering Requirements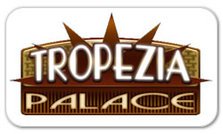 By:
Russell Potvin
, September 27, 2013
If making it easier for customers to cash bonuses is a good way to generate satisfaction, then Tropezia Palace is scoring a lot of points indeed. Undoubtedly the deal they have carved out for new customers is being very well-received.
What Tropezia Palace has done is make it possible for new players to get through the requirements needed to cash a bonus much easier. What they have done, on the welcome bonus of 200% that is good for up to 200 dollars, Euros or Pounds is to lower the wagering requirement from the customary 35x to 20x. In case you're not all that familiar with it, let's explain what we mean.
When you take a welcome bonus, you are subject to some actions you have to take in order to make that money real in your account. After all, no one is going to give you 200% up to $200, which would mean a $200 bonus on a $100 deposit, and just let you put it in your account and run with it.
Casinos want you to put forth a certain amount of action before you can put the casino bonus money into your account. It is expressed as a multiple of the bonus you get plus the initial deposit. As we use 35x as the multiple, that means thirty-five times the sum amount of the deposit ($100) plus the bonus ($200).
So that comes to 35 times 300, which comes to $10,500 worth of action that must be sent across the designated games before the $200 bonus can be put into an account.
You can imagine how much relief there is to the player when that multiple is reduced to 20x, because it brings the amount of action to $6000. This is significant, in that it is not only very competitive within the industry, but it exceeds that which is found almost anywhere else.
Make no bones about the fact that Tropezia Palace is offering a great deal.
In addition to this, the casino is expanding the selection of its slot games, which are produced and developed by Leander Games. One of those games is Castaway, a five-reel, 30-payline slot with a "deserted island" theme that has a mechanism by which you can win 30 free spins, along with some other extremely interesting features. The "Spin 'n Poker" side game lets you simultaneously spin the reels and play video poker, which is, needless to say, very unique. You can play seven Texas Hold'em hands at once with another bonus game.
Then there is Reely Bingo, which brings many of the characteristics of bingo; it's another game with five reels, but with 25 paylines, and there is a side game feature that offers a free spins bonus. And like the video poker/ slots situation, you can play four cards of bingo with the "Video Bingo Madness" bonus. This is a very good time, so Tropezia Palace customers can enjoy more relaxed bonuses and great new gaming experiences at the same time.