William Hill Casino Reaches iPads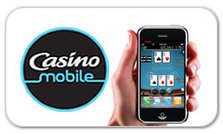 By:
Russell Potvin
, October 11, 2013
William Hill is one gaming company that certainly moves when the market is shifting, and their latest announcement reflects that in a big way.
The British bookmaker, which may be the biggest one of its kind, is now making its live casino, which had demonstrated itself to be one of the most popular parts of its overall game offering, to the public on iPad, signaling a significant step forward in its mobile casino initiative.
The live casino is a tremendous phenomenon, and rightly so. It is a very sophisticated undertaking, largely indicative of the commitment the Canadian online casino has to its players. What it involves is a live feed, with dealers in a physical location, that allows players who are connected through their computers to play the games in real time, against real dealers who are not only "in the flesh" but are communicating with them as well.
According to Juergen Reutter, who is the director of William Hill's mobile project, "Live Casino has upped the ante in online gaming." And it really has. There is no other experience available to a casino customer that provides the convenience of being able to play online with the realism of having actual access to a brick-and-mortar establishment. The atmosphere is such that it combines the best of both worlds. As Reutter is fond of saying, "This is the closest you can get to playing in a real casino."
And it is one of the "stickiest" parts of the casino as well, because once patrons get a taste for live dealer casino action, they are hard-pressed to find anything else that is more thrilling.
When a customer buys into live casino action, he or she is greeted personally by a dealer and takes a place at the "table." At that point there is real-time audio communication (albeit one-way), interaction with the dealer and the other players through a live chat apparatus, and lots and lots of suspense. Don't make any mistake; there is a certain premium that must be paid, because the minimums are higher than they are in the usual casino environment, but there is also the opportunity to get a "real deal" that is not influenced by the random number generator (RNG).
There are four different games that are dealt in this format - live blackjack, live roulette, live baccarat and live Casino Hold'em (a poker variation). There are censors in the physical casino room that record what is happening on that end and relay that into a data center that immediately reflects it on the customer's screen, so everyone knows where they stand at all times. We said it was live, and it's even better than that - it is ALIVE.
In William Hill's live casino, which is available for all users of an iPad now, there are over sixty dealers - both make and female - who occupy 25 blackjack tables, seven roulette tables, three tables dealing baccarat and two of them that feature the Casino Hold'em game. All players using the iPad will have to do is tap their touchscreen to execute the wagers they have to make. What's great about live casinos is that there is so much technology that is meticulously implemented that when it "comes out the other end," it really makes things very easy for the player.